Easter in Corfu is a unique experience, drawing visitors from mainland Greece as well as tourists from countries worldwide.
During the Holy week, there are spectacular and often moving ceremonies and customs that take place in the Old Town and are echoed in villages across the island. Celebrations begin on Good Friday when Corfu's many philharmonic orchestras and choirs accompany the epitaphs from the town's churches as they parade through the streets. This marks the death and funeral of Christ.
On Holy Saturday the resurrection ceremonies begin. There are processions around the Old Town from early morning. Choirs and orchestras criss-cross through the maze of cobbled streets accompanying the relics of the town's patron saint, St Spiridon. This is followed at 11am by the extraordinary 'pot throwing' custom, unique to Corfu.The balconies of the buildings are decked with red cloths. Watched eagerly by the huge crowd, the Corfiots throw large clay pots from the high balconies into the streets below. There is competition for the biggest and the best.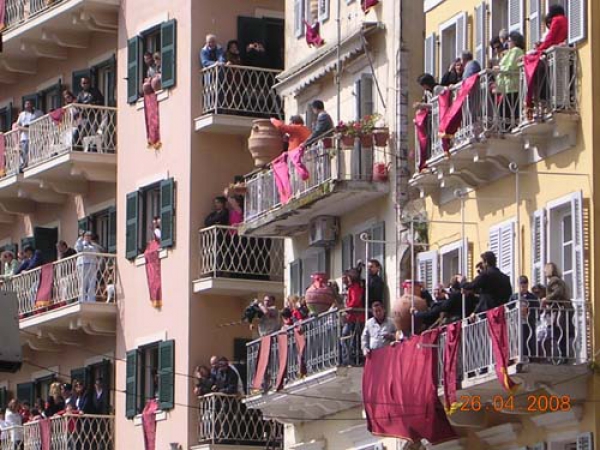 In the evening, there are candlelit open air services culminating in an impressive fire work display to mark the Resurrection, just after midnight. The mood then lightens and the bands play cheerful music as they march through the streets. The celebrations continue until dawn.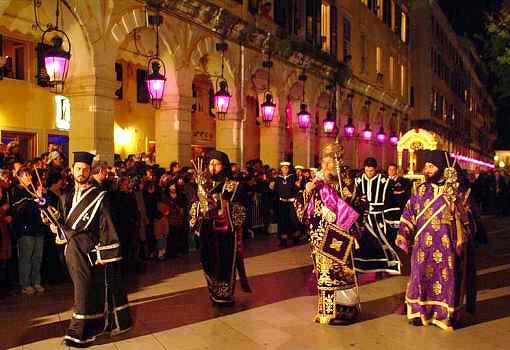 Easter Sunday services and parades are held from 7am until 10am and then families get together for feasting. The meal usually consists of succulent spit roast lamb or goat, washed down with plenty of local wine. It is customary for family and friends to break each other's bright red hard boiled eggs as a symbol of rebirth.
Easter in Corfu is a magical time to visit. Easter Sunday in 2015 is on April 12th. In 2016, Easter Sunday is on May 1st. Get planning your trip now!