1. Explore Corfu Town
Getting there
A visit to Corfu town comes highly recommended and access by bus, car or boat is easy from all parts of the island. Parking is around 3 euros for the day, the best option being the large car park near the New Port. Buses run regularly ( e.g. every 20 minutes from Ipsos) and drop off in the centre of town at San Rocco Square.
The Liston and the Old Town
The charm of Corfu town comes from its fascinating mix of ancient and modern. You will find the influence of past dynasties in elegant streets and fine Venetian architecture, an arcaded Parisian style promenade called The Liston, a Byzantine fortress and British palaces. Corfu town is always buzzing. If you enjoy shopping, you will not be disappointed. In addition to classy shops selling clothing, jewellery or leather handbags, the colourful pebbled alleyways of the old town offer wonderful artisan treasures that tumble from its ancient buildings. The warm, enticing colours of olive wood are visible everywhere and handmade linens adorn the awnings. During the day, the maze of sun-dappled narrow streets offer some escape from the heat and at night the mellow lights of the shops invite you to explore.
Hidden amongst the shops of the Campiello, there are tiny beautifully kept chapels. The most famous of these is the Church of St Spyridon, built in 1590. The tall red-domed bell tower of the church is a well-known landmark. Inside the lavishly decorated church, a constant stream of visitors pay homage to the mummified remains of St Spyridon.
Food and Drink
Whatever time of day you visit Corfu town, a refreshment shop will be very welcome. There are many coffee shops, tavernas and restaurants to suit all tastes and budgets. The cafes and restaurants around the famous Liston are the most expensive. You can find well-priced, excellent food in many tavernas deeper into the old Town. Tiny bakeries also offer a range of delicious local pastries or Italian ice-creams if you prefer to eat on the move. Be brave and explore the side streets as there is much to discover.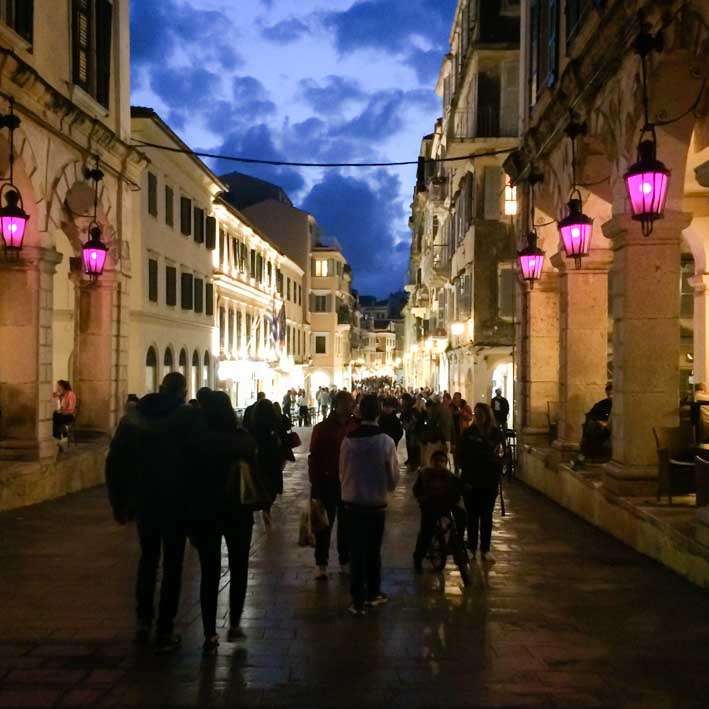 The Old and New Forts
In addition to the delights of the Campiello, Corfu town has two impressive fortresses.These are worth a visit and offer magnificent, panoramic views across the town and coast. Entry to the Old Fort costs 6 euros. The site is interesting. The climb to the top can be challenging on a hot day therefore you will need sensible shoes. There is a small museum, a cafe and a small shop within the fort.The site is often used for various art and cultural exhibits.
Entrance to the New Fort is free and the views from the top are well worth the climb.
Next to the New fort there is an excellent daily fish market. Fresh fish is abundant. On offer is a good selection which includes octopus, squid, sea bass, bream, mullet and snapper, as well as the ever popular sardines. Due to it's great popularity, you will need to get there early if you are keen to buy fish. There is also a cafe where you can sample delicious fried squid or tender octopus. Locally grown fresh vegetables are also on sale.
Museums
There are various museums in the town, the most well-known of these being the Corfu Museum of Asian Art. This is housed in the impressive Palace of St Michael and St George. The palace is beautifully kept and has an unusual collection of Sino-Japanese art and artefacts, as well as bronzes, woodcarvings,porcelain,weapons and armour from Tibet, Nepal, Korea and Thailand.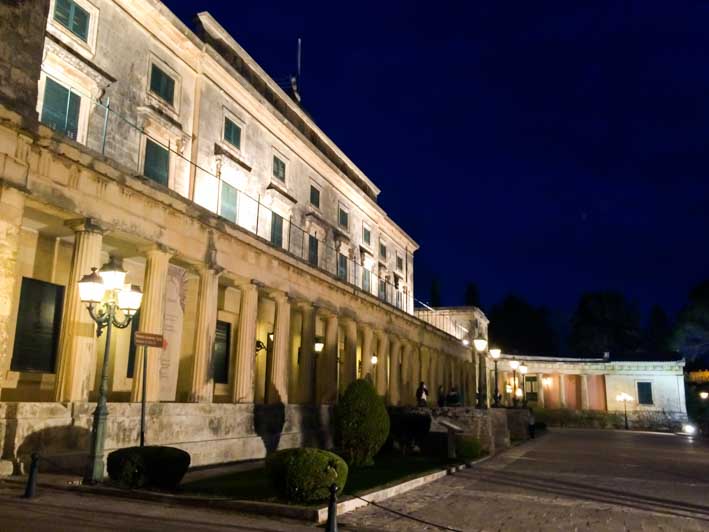 Bus Tours
If you have limited time to explore Corfu Town, you could consider the City Sightseeing Bus tour. This costs around 19 euros per person for 24 hour unlimited 'hop on, hop off' use with a commentary available in several languages.There are 4 stops visiting the main sites of the town.
2. Explore traditional Greek Villages
Transportation
Hiring a car gives you the most flexibility to explore the island, but if you prefer to sit back and relax, there are numerous taxi companies that will collect you from your accommodation and take you on a tour. For the more adventurous, a jeep safari could be an option. Tours cost around 60 euros per person and they typically offer off-road tracks, olive groves, stunning views and unspoilt villages.
Village Life
There is no better way to get a flavour of Greek tradition and culture than by venturing away from the tourist hotspots into the villages around the island. Most of the inland villages have remained unchanged for hundreds of years and offer a fascinating glimpse of Greek lifestyle. You will find tiny cobbled streets, pretty village squares, ornately decorated churches, small local shops and plenty of 'kafeneons' where the locals meet to sip their coffee and share their news. Village tavernas serve simple meals of freshly cooked locally- sourced ingredients. 'Mezes' (small plates of food) are traditionally served to accompany an alcoholic drink. Villages such as Sokraki or Strinilas are lovely to explore. In Sokraki, carved olive wood items are made and sold in a tiny shop. Furthermore, prices are cheaper here than in Corfu Town.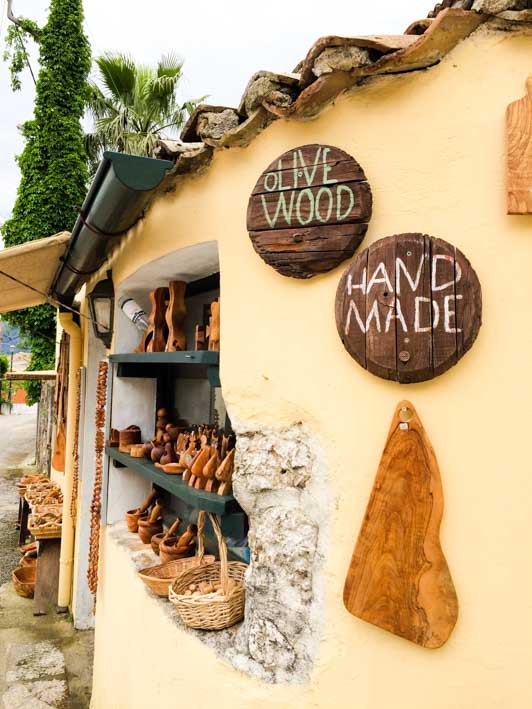 Family time is treasured in Greek culture and families gather regularly to share a meal. Peace descends at siesta time, which is observed in the villages between the hours of three and five. For many, life revolves around tending olive groves, allotments and vineyards. If you are lucky enough to experience a village festival, you will be rewarded with a colourful spectacle of traditional processions, dancing, bands, food and of course plenty of local wine.
Old Perithia
The oldest village on the island dates back to the 14th century Byzantine period. 'Old Perithia' was abandoned when families moved away in search of work. Most of the original hand-built buildings remain, including five churches, all set within pretty terraced fields dotted with wild flowers and cherry, almond and walnut trees. There is a peaceful atmosphere here and above all, a real sense of history. Recently there has been some renovation of houses and there are four excellent tavernas offering visitors a delicious selection of homemade traditional dishes accompanied by wine, beer or locally made ginger beer.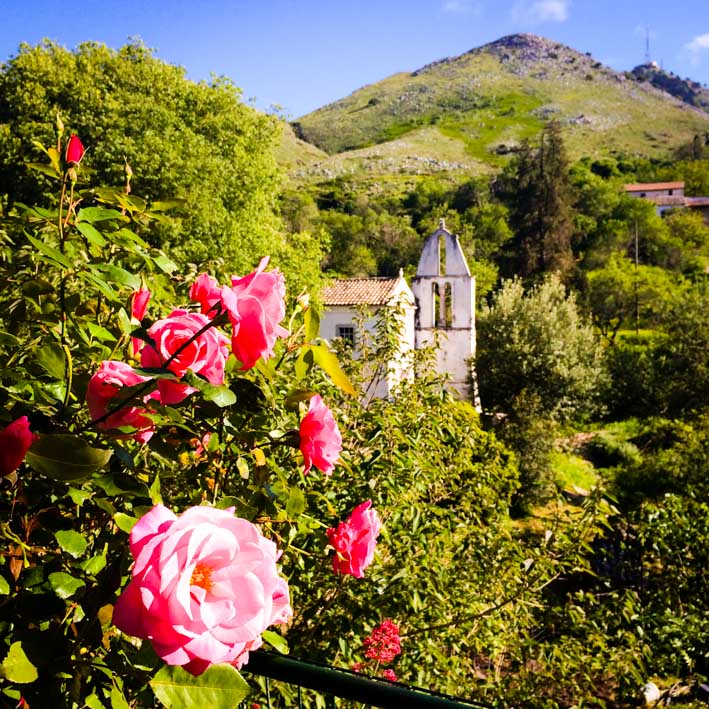 For more information about Old Perithia see https://www.villapetalutha.com/old-perithia/
3. Hire a Boat
Coastal Activities
The best way to see the coastline of Corfu is by boat. For many holiday makers, this is often the most memorable experience and highlight of their holiday. Boat hire is most readily available on the East Coast of the island due to the calmer seas and there are also more small coves to explore. There are several boat hire companies operating from the main resorts. Hire is for a whole day or half a day and you will be given a whole tank of fuel. There are various sizes of boat to choose from depending on your party size and your budget. Life jackets are provided and full instructions on how to drive and navigate.There are plenty of tiny bays where you can drop anchor for a swim in the crystal-clear water and picnic on the beach or moor up at a welcoming beach-side taverna.
If you are anxious about handling a boat, you can hire a skipper to take you out. There are also many boat excursions that offer a variety of trips to secluded beaches or Corfu town. Scuba diving, snorkelling and fishing trips are also readily available.
4. Sample traditional Greek Food
To understand and experience genuine Greek cuisine, seek out family run tavernas that serve homemade dishes. These are often set back from the main tourist strips or in surrounding villages. A good guide is if local families are eating there. The menu may be more limited to two or three slow cooked dishes or grilled fish or meat served with fresh vegetables and you may be invited into the kitchen to see what they have on offer. Do not expect fast food. For the Greeks, a meal is an event that should last several hours. They have a preference for ordering a variety of 'Mezedes' which are often brought to the table a few at a time and shared by all.
That is not to say that the food available in tourist resorts is not typically Greek. Indeed, there are some excellent tavernas within resorts which offer a wonderful selection of traditional dishes. Be brave and try something different! See https://www.villapetalutha.com/traditional-greek-food/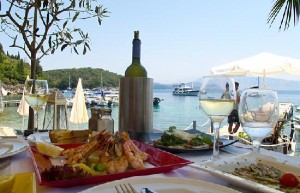 5. Spend a day at the beach
Corfu is blessed with the most amazing coastline. There are olive-clad promontories that run into turquoise seas and stunning mountain slopes that ascend from the shoreline. There are beaches to suit every preference. Most of Corfu's beaches are safe for swimming. The north east coast meanders in and out of small pebble coves where the water is incredibly clear. There are tiny jetties and harbours and clean pebble beaches to explore. Wooden walkways are provided to help you traverse the pebbles and there are sunbeds and parasols for hire. Water sports are readily available on the larger beaches.
Recommended beaches
Recommended beaches are Barbati, Nissaki, and Kerasia. As you travel north, the beaches become more sand and shingle and do not shelve as steeply into the sea. Acharavi and Roda are worth a visit. Further around the coast, beaches are sandy and longer. The lagoon of St Spyridon is a favourite for families with young children. The water here is shallow with sand underfoot. The longer beaches of the west coast are wide and sandy. These can sometimes be windy in Summer, therefore offering excellent conditions for activities such as windsurfing. Agios Georgios and Glyfada are particularly popular.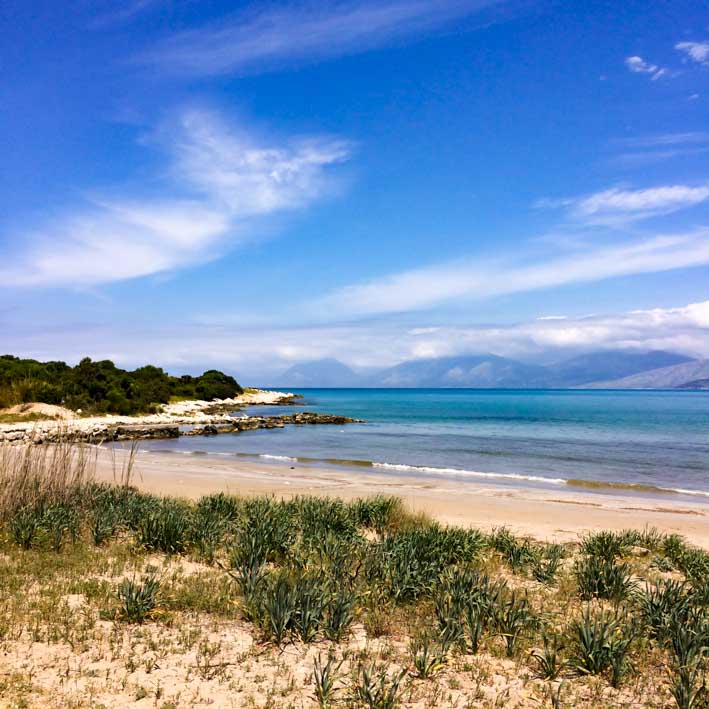 6. Visit Mount Pantokrator
The summit of Mount Pantokrator is 906 metres above sea level. The route to the top takes you through the pretty mountain village of Strinilas. (There are two excellent tavernas here) The last kilometre of the route is ribbed concrete and is quite steep. It might therefore be best to walk the last stretch as parking at the top is limited. At the top there is a monastery and small cafe. Due to its fabulous position,the views from here are extraordinary and well worth the expedition.
7. Walk along a track
Corfu is an island of great natural beauty. The best way to discover its rich flora and fauna is on foot. The island has an estimated four million olive trees and there are hundreds of tracks that weave across the island, often leading through ancient groves.The gnarled and twisted shapes of the trees are fascinating. There are over forty species of wild flower such as orchid and woodland crocus to enjoy.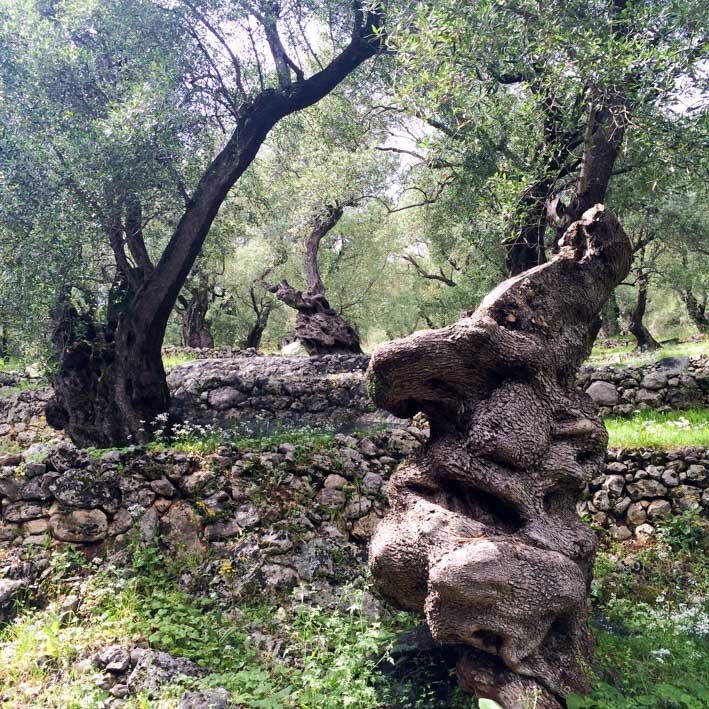 The smell of wild sage and lavender is evident and beautiful butterflies abound. If you are lucky, you might see a herd of goats, announced by their bells, or one of the many brightly coloured migrant birds that visit Corfu. You may also spot resident buzzards and golden eagles or sometimes a shy pole cat. Some of these hidden tracks are part of the 'Corfu Trail' which covers the length of the island and is popular with hikers. Be sure to carry water with you and wear a hat if you explore on foot.
8. Enjoy a Greek Night
Experience Greek hospitality
Don't miss a chance to experience a traditional Greek night! There are many places to enjoy this, but one that I highly recommend is hosted by Periklis Katsaros at Nikolas Taverna in Agni Bay. Held weekly on a Thursday night, booking is essential as this is always a very popular event. Arriving by boat makes it an extra special treat. You can ask to be picked up by the taverna's boat taxi from a nearby beach.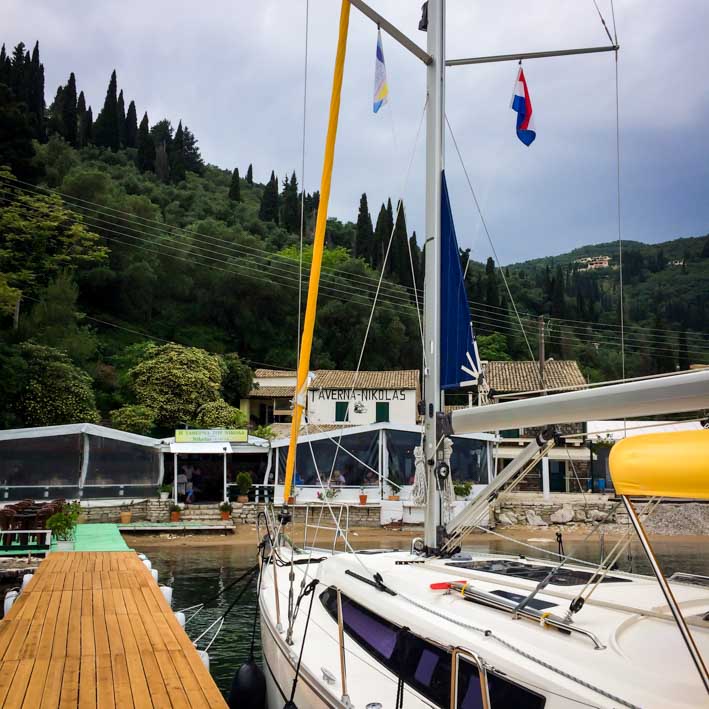 Not only is this a beautiful setting overlooking the bay, but above all, Periklis ensures that his guests have a truly Greek experience, carrying on the traditions of his Grandfather. You will be assured of a warm welcome and served a delicious meal of spit roast lamb or chicken. The wine flows and the talented musicians begin to play. Dancers in brightly coloured traditional costume display their dances and Periklis himself takes to the floor. Finally, make sure you accept your invitation to participate! The evening draws to a close when the last guest leaves.
9. Visit Paleokastrisa
The dramatic headlands and crescent-shaped bays of Paleokastrisa are well celebrated, having featured in the James Bond film 'For Your Eyes Only'. They have attracted visitors for many years. There are three pretty bays here. From the harbour you can hire a boat or join an organised boat trip to visit the cliff grottos and caves. The turquoise seas are crystal clear and hence make it a popular choice for scuba diving.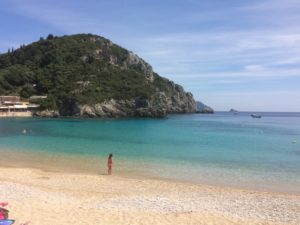 On the Western headland, there is a lovely monastery set in beautiful gardens. It is free to enter and worth a visit. (Ladies must cover bare shoulders and thighs) The views from the headland are fantastic and well worth the climb.
10. Visit the Church of Panagia Vlacherna and Potikonisi
This is probably the most photographed and recognised view in Corfu and it features on many postcards. Just two kilometres from Corfu Town, the whitewashed Church of Panagia Vlacherna sits on a tiny islet reached by a narrow strip of land. The best view is from the terrace and cafe above at Kanoni. From here, steps lead down to the little harbour and causeway. You can board a small boat to take you the five-minute trip to Pontikonisi, 'Mouse Island'. Nestling amongst the dense vegetation is the Byzantine church of Pantokratoras.
In conclusion, Corfu island is a magical place to explore due to its beautiful landscape and history but above all the warmth and hospitality of its people.