Vitamins Taverna
Location
Vitamins is one of our highly recommended tavernas in Corfu. It is located in Nissaki on the main coastal road of north-east Corfu. Vitamins taverna offers a lovely family dining experience. Perched above Nissaki, the views from the dining terrace across the bay are delightful. The recent extension of a roof cover over the large outdoor terrace gives all weather protection. Hence, diners enjoy al fresco meals during the heat of the day or if a sudden shower occurs. This family-run taverna has an excellent reputation for consistently good food and a welcoming atmosphere. Many guests return year after year. Consequently, booking is strongly advised, especially in peak season.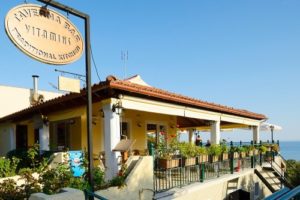 Having inherited the taverna from his father over 35 years ago, Dimitris is now at the helm. He is supported by his two daughters Ntina, Amalia and son-in-law Vasilis, who all speak excellent English. They take pride in serving authentic greek or mediterranean dishes and good quality wine. Vitamins is open for lunch or an evening meal. There is also a bar serving coffee as well as an extensive range of alcoholic or soft drinks.
Menu
The menu at Vitamins offers a wide selection of dishes, including vegetarian, gluten free and also vegan options. Traditional greek meals are often a mixture of small dishes that are shared between diners, known as 'meze'. If you enjoy a range of tastes and flavours, there is a good choice of starters for sharing. For example, there are wonderfully crispy fried anchovies, kalamari (squid), grilled mushrooms, tasty meat balls, baked feta cheese, a bubbling aubergine baked with mozzarella and parmesan, or delicious horta ( local greens similar to spinach) to name but a few. Add a vibrant salad or two – Vitamins have their own special salad on offer – and you have a delicious sharing meal for the table. A nice touch is the complimentary olive tapenade and bruschetta mix brought to the table with bread to enjoy while you await your meal.
Main Course
If you prefer individual main courses, there are plenty of options. Firstly, seafood lovers will be delighted by the fresh sea bass, sea bream or swordfish. These are grilled over charcoal and served with fresh vegetables or chips and salad. Classic greek dishes such as moussaka, sofrito, stifado or pastisada are available. Additionally, there are also some interesting house specialities, which are well worth trying. Meat lovers are also very well catered for with delicious beef steaks, pork chops, chicken kebabs or lamb chops. These are traditionally cooked on the charcoal grill. Finally, if you can't make up your mind, the generous mixed grill offers a taste of each. Children are well catered for too, with familiar options such as pizzas, burgers or spaghetti bolognese.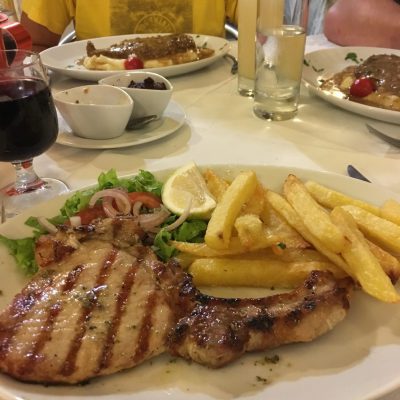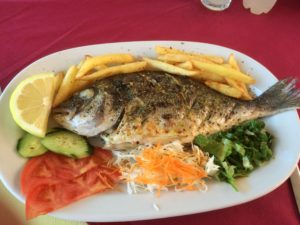 Dessert
If you have any room left, there is always a selection of homemade desserts to tempt you. Try a slice of Amalia's delicious orange or apple pie served warm with ice-cream. Chocolate lovers will enjoy a hot chocolate fondant. There is a range of ice-cream sundaes or ice lollies for the children.
For more information about traditional greek food visit our blog:
https://www.villapetalutha.com/traditional-greek-food/
Drinks
Make sure you take full advantage of the excellently priced local wines. At around six euros for half a litre, these are very palatable. The local house wines are served in traditional lipless metal jugs. Amazingly, you can pour these from any angle without spilling a drop! However, If you prefer bottled wine there is a good wine list that should suit the more discerning palette. If your preference is beer, you will not be disappointed. For instance, light and refreshing Corfu beer is available on draught during the main season. The ever popular chilled bottle of Mythos is also delicious.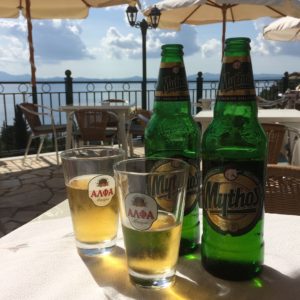 Ntina, Amalia and Vasilis are attentive hosts and you will be assured of a warm welcome. As with all good greek tavernas, the food is cooked fresh, so don't expect fast food. In other words, sit back and relax! Take in the view, sip a glass of your favourite tipple and dig in to the olive tapenade!
Vitamins is a highly recommended Greek taverna in Corfu, offering an authentic greek experience. A visit to this lovely location will be richly rewarded. Visit their website for more information and contact details: