Squirrel Restaurant
Location
Squirrel restaurant is very high on our list of recommended tavernas in Corfu. This lovely taverna is located on the Analipsis Road, tucked away behind the main coastal road in Ipsos. Heading south on the main coastal road continue past Ipsos harbour and the end of the beach. After this, take a sharp right turn opposite the mini market. Drive up the hill and you will find the restaurant on your right. The restaurant has an area for car parking.
Squirrel is an authentic, family run taverna. This taverna has an excellent reputation and has been awarded the Trip Advisor certificate of excellence for several years running. Rula and Yiannis are the owners and they pride themselves on offering the best of Greek hospitality. They are welcoming and attentive, taking the trouble to explain the menu and suggest dishes to suit particular tastes or needs. Yiannis is the chef and likes to chat to guests about their meals. He takes great pride in the family recipes he uses and It is not usual to be invited into the kitchen to see the processes involved. Consequently, the whole experience is relaxed and homely.  Squirrel is popular with locals, which is always an indication of quality and authenticity.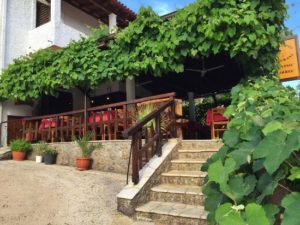 Menu
Recommended Main Course
Most importantly, at Squirrel you will enjoy fresh, home-grown produce and traditional Corfiot dishes. This is one reason that Squirrel is one of our recommended tavernas on the island. As with all traditional tavernas, the menu offers the option of selecting 'meze' (a selection of starters to share) or individual main meals. There is something to suit everyone on offer here. All dishes and accompaniments are homemade by Yiannis and Rula. Portions are generous so make sure you are hungry! Relax, take your time and enjoy a leisurely meal.
Firstly, tuck into the traditional bread, olives and olive oil with balsamic vinegar while Yiannis works his magic in the kitchen. If you want to sample a range of dishes, there are some delicious options for sharing. For example, seafood lovers will enjoy fresh mussels, fried Kalamari ( squid) or anchovies. Additionally, a rich and spicy mussel or prawn saganaki is very tempting. Vegetarian options include tasty grilled portobello mushrooms, courgette balls or baked feta cheese.
If you prefer to order separate main courses, there are some wonderful Corfiot dishes on offer. For example, there is sofrito ( Veal in white wine and garlic sauce), fish Bianco ( whole fish with parsley, white wine and garlic) moussaka, meatballs, or seafood pasta. However, If you prefer something simpler, grilled meats such as beef steaks, pork or lamb chops are readily available.
For more information regarding greek food see: https://www.villapetalutha.com/traditional-greek-food/
Dessert
It is hard to pass on the delicious homemade desserts on offer. Rula's cheesecakes are light and creamy, topped with lemon, orange or strawberry. Alternatively, try the rich, fudgy chocolate cake – perhaps one to share! If you want a more traditional greek sweet, one option is baklava ( honey soaked filo pastry). Of course, a range of ice cream treats are also available.
Finally, just in case you have room for more, your wonderful hosts will treat you to a complimentary plate of deep fried crispy apple fritters sprinkled with cinnamon and served with an orange sauce. Enjoy!
Drinks
Local wine is excellent value in Corfu. At Squirrel, traditional home-made wine is served by the litre and is very palatable. However, if you prefer bottled wine, a good wine list is also available. In addition, the well-stocked bar has a range of spirits or cocktail options. Finally, at the end of your meal, you will be treated to a complimentary limoncello. In keeping with the rest of the meal, this is made by Yiannis and is delicious!
Yianni is keen to ensure that you have enjoyed your meal. Thus, he takes a break from the busy kitchen to visit your table for a chat. What a fantastic host!
So, get your table booked and enjoy a memorable evening in one of our highly recommended tavernas!